Work list Budapest 3/2017
János Brückner & Khansa Humeidan, Home – You Are Not Alone (2017), multimedia Installation
Azahara Cerezo, Principles of traceability (2017), prints
Marta Fišerová, Sleepless I kept the night (2017), video installation, 5'
Réka Lőrincz, O P E N (2017), installation & video, 3'
Marko Markovic & Sandro Đukić & Branko Cerovac, The Naked Island (2016), prints and video installation, 2'
Joe Joe Orangias, In Full Flow (2017), Prints
David Reumüller, Wallpainting o.T. (2017)
Kamen Stoyanov, I am going to kill you (2017), video installation, 4'35
Katharina Swoboda, Center of the Earth (2017) Video 7'
János Brückner & Khansa Humeidan
Home – You Are Not Alone (2017)
Multimedia Installation
​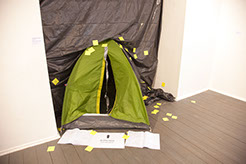 Representing crisis, war and precarity in a white cube gallery seems to be a contradiction. There are real
people, refugees, in real situations of war and violence and there are the other kind of people who walk
into a gallery to look at art about refugee and crisis topics. The gap between 'them there' and 'us here' becomes
deeper as people who are in the centre of crises and visitors of exhibitions become more detached
from each other.
It is, however, important to talk about the refugee crisis, it is important to make the precariousness that
hits all of us, visible, audible and touchable. Brückner and Humeidan don't believe there should be a separation:
they want to dissolve the border that exists between people in various situations.
In their collaboration, they found that nothing is more important than the stories of people. In this case
stories that are connected to the concept of home – a core symbol of human precariousness.
The installation of Brückner and Humeidan is aimed at offering audiences a chance to step out of the
ideas and images we in Europe of the current violence, war and crisis: ideas and images that are mostly
deformed by what we have seen in the media. Telling stories and re-actualizing those stories as an audience
can encourage people to step out of the core contradiction of war at a white cube situation. It does
not matter from which country you are, or how people think about your country of origin. Brückner and
Humeidan will only look at people's stories. The particular story that is part of 'Home – You Are Not Alone'
is powerful not only because it is reflecting on your own ideas and images about war, but also because it
is a personal and honest recount.
János Brückner (1984, Budapest) lives and works in Hungary and Germany. Brückner studied Hungarian Language
and Literature at Eötvös Loránt University of Humanities, at the Hungarian University of Fine Arts,
majoring in painting and at the University of Fine Arts in Berlin where he obtained a postgraduate master
in Art in Context. Brückner gets inspired by pop culture; he is mainly interested in the representation of the
self, how one can identify or misidentify with the constant image flow of today's world. He participated in
several solo and group exhibitions and was awarded the Derkovits Gyula Grant twice. www.brucknerjanos.com
Khansa Humeidan (1986, Moscow) lives and works in Berlin. She obtained her bachelor of Fine Arts, Design,
Calligraphy, Aesthetics and History of Art and her preliminary year Master at the Visual Communications
Department Art at the Damascus University and then studied Art in Context at the University of Fine Arts
in Berlin. Humeidan organized and participated in several workshops in Syria and Germany.
Azahara Cerezo
Principles of traceability (2017
Prints
​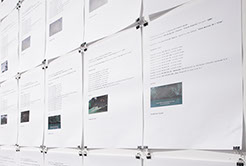 "The Jungle" refers to a series of camps around Calais, northern France. There is no trace of these camps
in Google Maps, even though the images seem to have been taken in 2016 and the refugees and migrant
camps in Calais have existed in various forms since 2002. Probably, this absence can be easily explained
as a mistake in the renewal frequency of the satellite imagery, since the camps do appear in other platforms
and sources. However, this slight dislocation in Google's refresh rate contrasts with the progressive
omniscience of systems, devices and virtual platforms of vision. In this sense, the ways used by Google
cartographic services to collect imagery remind to colonizing logics and point to an ultimate intention to
possess the territory. As a transnational and powerful agent, this kind of tools are changing our relationship
with what is seen, what needs to be seen and how it is seen (algorithms, image patents, standardized
screen formats…).
As Saskia Sassen states, these kinds of globalizing processes are producing ruptures in the mosaic of border
regimes underlying the international system of exclusive territorial demarcations. In other words, "the
unleashment of capital transforms the world into a battlefield" according to El Pressentiment n.40, a project
by the philosophers Marina Garcés and Santiago López Petit.
In this context, frontlines are situated in less obvious places. This is the case of Western Sahara, an old
Spanish colony that was occupied by Morocco after non-completing a promised Referendum. The conflict
lasts for more than 30 years and part of the Sahrawi population still lives in refugee camps in the middle
of the desert. They are surrounded by a double border: the adobe and mines wall which physically divides
their land and, more important, the informative border that prevents from communicating their situation,
an invisible border difficult to break.
The Sahrawi refugee camps, the oldest in the world, are difficult to locate through platforms such as Google
Maps. It is easier to find a Google's suggestion for the recent European refugee camps than for the
Sahrawi settlements. In fact, Google has mapped and taken photos from the main refugee camps in Europe
in Google Street View and it is even possible to leave a review of these places. It is a virtual gallery
that "directs" our look.
On the other hand, the permanence of the Sahrawi camps is not only a paradox or a weapon (Sahrawi
culture is composed by nomad cultures), but it could also give clues about displacement, temporary structures
and citizenship; in sum, about the potential future of Europe. Somehow, Western Sahara is a transitory
zone since 1975. The work focuses on the relationships between visible and invisible frontlines and
transitory zones within a context of increasing technical tools. It tackles these technical tools as power
hubs that condition our way of looking as citizens and conforms new coordinates within geopolitical strategies,
especially in Europe.
This project arises from the previous collaborations with Artifariti (International Encounters of Art and
Human Rights in Western Sahara) in which Cerezo participated through some of the satellite events. With
gratitude to Jose Iglesias Gª Arenal, Spanish artist and member of the curatorial team of Artifariti 2016.
Azahara Cerezo (Girona, Spain, 1988) explores urban forms and (in)visibility relations in the physical and
virtual public space through access and usage of data in real time, re-appropriation processes and strategic
displacements. Her work addresses contradictions in the territory's singularity, whose physical dimension
is understood as liquefied by digitalization and other global dynamics. She shapes (often online) actions,
experimental videos and installations. Her projects are frequently linked to the production in context in the
frame of artistic residencies as well as to the collaboration with other artists. www.azaharacerezo.com
Marta Fišerová
Sleepless I kept the night (2017)
Video Installation (5')
​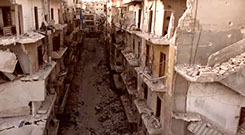 The video is showing appropriated drone footage from destroyed Syrian cities. Both Judith Butler and
Susan Sontag discuss the effect of war photography. Fišerová sees the influence of time in both claims
as well as in images we are used to see today. The drone slights with smooth movements between the
rubble of houses and then flies up again above the city to show the scale of the destruction. A beautiful
picture, a terrifying view. With this footage, the image of war got a new dimension. The whole picture is
completed by a sad but pleading voice of an Arab woman reciting a poem that shows great sorrow about
the life she used to live and which will never be the same again. The poem is a lyrical parallel for Butler's
thought about grievability and the precariousness of life.
Marta Fišerová (Brno, 1987) studied at the Faculty of Fine Art in Brno, with a focus on conceptual tendencies
and painting. She is a curator and a visual artist who works in multiple medias, ranging from installations
and objects to photography and video. She has participated in several individual and group exhibitions.
Fišerová's works can be read as critiques. The critiques of society, its phenomenons and processes,
partly also as critiques of art practice itself (dealing with the problem of the image). Her works are based
on a process of thinking and research: the form follows thoughts so materialization always depends on
concepts. Another key element that is always present in her art practice is storytelling: in her work the
story can be the concept but it can also be the work's conclusion. Recently her works deal with the vague
feelings of cataclysm fatality. As a curator Fišerová works for the Gallery G99 in The Brno House of Arts, is
the founder and curator of Klubovna Gallery in the same city and a coordinator of Brno Artists in Residence.
Réka Lőrincz
O P E N (2017)
Installation & video (3')
​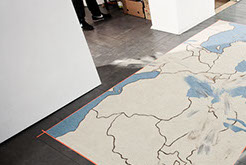 The site-specific installation called O P E N aims to objectively visualize the constant changes in our world
such as the geographical growth of frames. The mandala map expanding from Central-Eastern Europe to
Afghanistan reflects the places of the migrant crisis affecting our age. During the vernissage visitors get
to experience the performance where the natural flow of the audience destroys the mandala. The work
expresses the constant change of limits, frames and even the future ending of our present situation.
The center of Lőrincz' art practice is her interpretation of today's world. She is looking for a kind of communication
between the outside world and that of her own, in aim to make the invisible visible. She is intrigued by the street,
by what she sees there. Through her works, she is contemplating the tangled variety
of the universe. The inspiration she gets from her surroundings and the emotions and thoughts that pass
through her mind are the basis of her research and objects. Through her objects, she tries to reflect on
the difference between what is shown and the real world which can sometimes become appealing, fake or
even dangerous. www.rekalorincz.com
Marko Markovic & Sandro Đukić & Branko Cerovac
The Naked Island (2016)
Video Installation (2')
​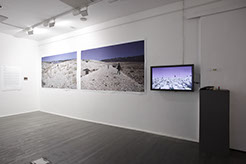 The only 'Gulag' in Former Yugoslavia was founded in 1948, when Josip Broz Tito entered Yugoslavia
because of his conflict with the Soviet Union. The Naked Island was initially a detention center with the
purpose of re-education. People from all over Yugoslavia were brought here without legal procedure or
conviction and often didn't know the reasons and the logic of the global politics that brought them to the
island.
Ten years later the camp was converted to a high security prison and then into a jail for juvenile delinquents.
In the late 80s, in the time of political transition, the facility was closed and the new era began.
All the buildings on the island and infrastructure were presumably plundered by people from the neighbouring
island: all the inventory was probably used for the construction of the new touristic infrastructure.
After that a football hooligan group destroyed everything else.
The artists found this island a significant place of immanent violence – symbolizing the problem of violent
detention and unwilling replacement of people and individual freedom versus state politics and power.
This unsolved history had a big emphasis on the Croatian tradition of emigration: in recent years, the
amount of people who left the country increased epidemically and now half of the Croatian population
lives abroad. Though Croatia was harbouring half a million refugees from the nineties war, the climate
was and is still xenophobic.
Expedition and walking through the hush landscape on extremely hot day was the moment for the contemplating
movement on the unknown territories. At the peak of the Island, at the Stone Query, one feels
the spirit of the first settlers, who were dying working during forced labour. After an exhausting expedition
to unknown territories, climbing over sharp rocks the artists have confronted their body with the brutal
environment. Eventually we left and vanished.
Marko Markovic (Osaijek, 1983) believes that everybody has the obligation to point out and act in response
to certain circumstances and situations in his or her environment, especially when it comes to social injustice
and irregularities in the system. His work is socially engaged and directly involved with people and
their needs as well as with social structures. His work reflects on current events and questions the structure
of politics, economics, status and positions of inferiority and superiority. He uses a variety of media, such as
sculpture, video, installations, performances and happenings. http://markovichmarko.blogspot.hu
Sandro Ðukić (Zagreb, 1964) studied at the Academy of Fine Arts in Zagreb and the Art Academy in Dusseldorf.
He makes spatial, architectonic and photographic installations and constructed films. The artist has
exhibited at numerous solo and collective exhibitions in all Croatian major art institutions and abroad in
Slovenia, Germany, Spain, Portugal, Netherlands, the US, Italy, Serbia, Austria. As a lecturer, he participated
in several domestic and international symposiums. Ðukić is a member of Croatian Association of Independent
Artists HZSU and Croatian Association of the Visual Artists HDLU. www.sandrobukic.com
Branko Cerovac (Pula, 1958) is a freelance curator, philosopher and self-taught painter/performer. He creates
works in various techniques and genres: drawings and prints, painting and mixed-media works as well
as performances and events. Cerovac has worked as curator of the Modern Gallery Rijeka (Museum of Modern
and Contemporary Art) since November 1988 and he was involved in all major projects and actions of
MMC (O.K. Gallery.
Joe Joe Orangias
In Full Flow (2017)
Prints
​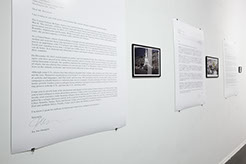 People fleeing conflict zones in the Middle East and northern Africa urgently need places to live. In Full
Flow examines the impact citizens have on pressuring state officials to pass progressive refugee policies.
After attending and learning from images of public vigils in solidarity with refugees, I have written and
sent a series of letters to governments for further advocacy. This exhibition features enlargements of my
mail to Hungary, Japan and the United States, and calls for citizen participation in building stronger frames
for refugee flows.
Joe Joe Orangias is a visual artist, activist and writer based between New York City and Geneva. His projects,
often collaborative and site-specific, focus on monuments, public space, queerness, decolonization
and sustainable development. He earned a MFA from Tufts University and the School of the Museum of Fine
Arts, Boston (SMFA), and a BFA from the Savannah College of Art and Design. Orangias has exhibited at
the Contemporary Arts Museum, Houston; Gaffa Gallery, Sydney; Hinterconti Projects, Hamburg; Proof Gallery,
Boston; and the Jockey Club Creative Arts Centre, Hong Kong; among other venues. He was awarded
a SMFA Alumni Traveling Fellowship for research in Altera New Zealand; an Art School Alliance Fellowship
from the Hochstetler fur blende Kunzite Hamburg; and residencies at the Galveston Artist Residency,
Art342 in Colorado, RM Gallery in Auckland and Atelier OPA in Tokyo. He has published writing in Temporary
Land Bridge and Scope: Contemporary Research Topics (Art: 11). He also makes projects as part of the
collaborative Orangias+Eshraghi. www.joejoeorangias.com
David Reumüller
Wallpainting o.T. (2017)
​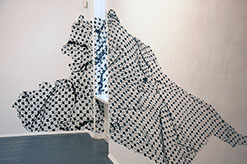 The interpretation of the wall painting presumably tells more about the viewer than about the image itself.
Each viewer will perceive the landscape in a subjective way, only through the individual interpretation
the data of the image becomes information. The ability to recognize patterns is the basis of selective
perception, which allows us to assign information. The selective perception, however, depends on socialization,
feelings and context. A reference to the subjective perception should be a 'point of view' in the
work, from which the image is at least optically "undistorted" readable. Leaving this point, the image begins
to distort itself increasingly.
As Kant wrote: "Mind and sensibility can only (...) determine objects in connection. When we separate
them, we have intuition without concepts, or concepts without intuition (...)."
David Reumüller (Gaal, 1979) lives and works in Graz. Since 1997 he mostly works as an artist, musician and
as a film maker on interdisciplinary projects. His art practice consists of films, music, installations and (wall)
paintings. He has participated in several solo exhibitions, amongst last year's presentation at the Sharjah
Art Museum in the United Arab Emirates. He is a founder of artists' collective Crew 8020 and Rockarchiv
Steiermark. www.david.reumueller.com
Kamen Stoyanov
I am going to kill you (2017)
Video Installation, 4'35
​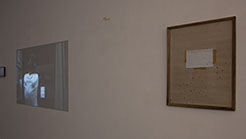 Is it possible to kill a threat? Can a policy of violence solve problems of violence? In the beginning of the
video the artist goes backwards and forwards on an abandoned parking lot in Los Angeles. This represents
a movement from the present to the past and then back to the present. The artist: "Five years ago,
I went to this abandoned parking lot at West Olympic Blvd. in Beverly Hills. I found this sheet of paper in
the watch cabin. I thought it was scary, but interesting. I took it, although I did not know what to do with
it. Now I know what to do with it." The second part of the video takes place in an indoor shooting range in
Downtown Los Angeles. The artist literally tries to shoot, to kill the message on the sheet - "I am going to
kill you".
Kamen Stoyanov (Bulgaria, 1977) lives and works in the EU. He often deals with the questions of identity,
migration, historical definition, social and cultural communication. In his provocative and ironic works, he
uses the urban public places and architectural environment he comes across as exhibition spaces. Stoyanov
makes objects and actions, mixing high and low culture. Themes he is interested in are power, progress
and geopolitics. His recent solo presentations include Restless at das weisse haus Vienna, Will I be
happy at Inda Galeria Budapest, as well as Kunstverein Salzburg, Mumok Vienna. He participated in the
Biennale of Sydney, Aichi Triennale, Manifesta 7, and exhibitions at Lentos Kunstmuseum Linz, MAK Center
for Art and Architecture Los Angeles, Center for Contemporary Art Plovdiv, Das weisse haus Vienna, Rotor
Graz, Transmediale Berlin, Sofia Contemporary, and Kunsthaus Bregenz. www.kamenstoyanov.com
Katharina Swoboda
Center of the Earth (2017)
Video (7')
​
Where there are borders, there is an inside. Within that space - at least theoretical - a center can be defined.
The center of Europe is far more East than Middle-Europeans would intuitively guess. For example,
earlier measurements placed the geographical center in Ukraine. Nowadays, the official center is close to
Vilnius in Lithuania. Thinking about the center makes clear, how diffuse the separation of Europe from Eurasia is.
According to a survey from 2003, and confirmed by a Google Maps entry in 2016, the center of the Earth
is placed close to the Anatolian city Corium in Turkey. This point is calculated by putting all land mass together
and then calculate the center of the big surface calculated before. In my work, I made my way to
that center of the world: 42 52´ N 34 34´ E, with two navigation devices, which led to two different points.
The video shows the journey to find the coordinates.
Katharina Swoboda (Graz, 1984) lives and works between Hamburg, Vienna and Graz. Her work is predominantly
video-based but she also works in photography, installation art and performance art, as well.
Swoboda graduated from the Academy of Fine Arts in Vienna, and has been a PhD student at the transdisciplinary
doctorate programme at the University of Fine Arts of Hamburg since 2014. Swoboda's videos
have been internationally shown in selected venues in Vienna, Houston, Panamá, London, Budapest and
Hamburg. She has received several scholarships, e.g. from the Austrian Federal Ministry for Arts and Culture,
and has participated in the KAMOV City of Rijeka residency in Croatia and the Nida Art Colony in Lithuania.
She is member of the Golden Pixel Cooperative in Vienna. www.katharinaswoboda.net