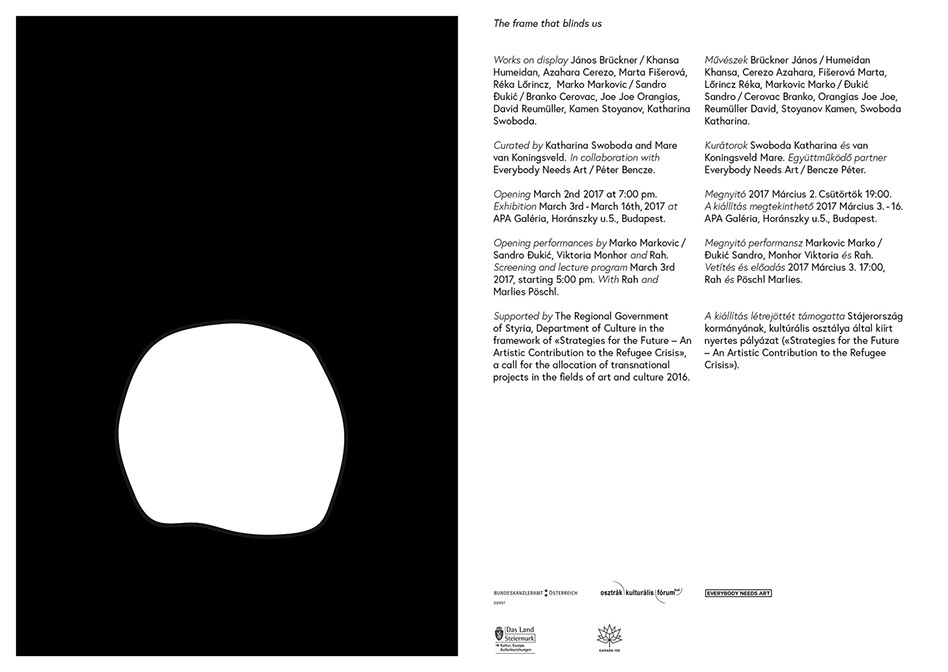 Info exhibition Budapest
The Frame that blinds us
March 3 - March 15, 2017
Curated by Katharina Swoboda & Mare van Koningsveld
With: János Brückner/Khansa Humeidan (HU/SYR), Azahara Cerezo (ES), Marta Fišerová (CZ), Reka Lorincz (HU), Marko Markovic/ Sandro Đukić/ Branko Cerovac (HR), Joe Joe Orangias (US), David Reumüller (AT), Kamen Stoyanov (BG), Katharina Swoboda (AT)
Opening: March 2, 7pm
Introduction by Christiane Kada and performances by Rah, Joe Joe Orangias, Viktoria Monhor and Marko Markovic/ Sandro Đukić.
Film & Lecture Program: March 3, 5pm
With talks and screenings by Marlies Pöschl ("Christal" installation version, 2016) and Rah ("Dear Sister", 2016)
Location:
APA Galéria, Horánszky u.5., Budapest, Hungary. In collaboration with Péter Bencze.
photographs from the opening, 2.3.2017
Images by: Aron Weber
video documentation of performances during opening:
Rah, Joe Joe Orangias, Vitkoria Monhor, Marko Markovic/ Sandro Đukić